Show Your Hair Some Summer Lovin'
Summer Hair Problems Solved at Esente Hair Salon in Wimbledon
Summer is just around the corner, and it can be great fun but don't forget that the warmer weather can also wreak havoc on your hair! The sun, sea salt and pool chlorine (if you're lucky enough to travel on holiday this year!) can cause your hair to become dry and fragile, and cause colour fade – so make sure you stock up for summer with the best hair products for healthy hair with the experts at Esente Hair Salon in Wimbledon.
Areas We Cover
Wimbledon
Merton
Wandsworth
Kingston
Deep Cleansing Products For Summer
In summer, we tend to wash our hair more often and the heavy detergents in most shampoos can cause dry, brittle locks. Using a sulphate-free shampoo will cleanse your hair gently without drying it out. All KEVIN MURPHY products that we offer in our salon are sulphate, paraben and cruelty free, so that you can thoroughly cleanse your hair with a clean conscience!
Prevent Hair Colour Fade in Summer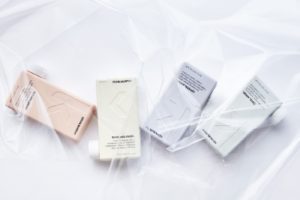 The sun can cause hair that has be coloured to fade so make sure to use KEVIN MURPHY COLOURING.ANGELS to protect and brighten your hair colour. Ask your Esente stylist to recommend the best COLOURING.ANGELS for your hair colour and condition.
To protect your colour and condition in the summer, make sure to cover up your hair on a hot summer's day and use an SPF hair product.
Protect Your Hair from Pool Chlorine
Chlorine in the pool can make your hair dry, cause havoc with coloured hair and lead to hair breaking. To prevent colour fade or breakage caused by chlorine, we would suggest a chlorine removing product such as KEVIN MURPHY MAXI.WASH DETOX shampoo. Then, once you have returned to your normal routine, book an appointment at our Wimbledon salon where we can give you a professional conditioning treatment to restore the moisture back to your hair.
Avoid Summer Frizz
Dealing with frizzy hair in the summer can be challenging due to the heat and humidity, but don't worry, we have the solution!
An in-salon Olaplex treatment can repair colour damaged, dry and stressed hair and protect against further damage, leaving your hair silky, strong and soft. Find out more about Olaplex here.
For long term frizz free hair, book in for a hair smoothing treatment at Esente Hair Salon - the smooth results last up to 4 months!
Keep Cool This Summer
Protect your hair from the summer sun, with hair products that contain SPF. The heat can cause your hair to become dry and prone to breakage, and can also cause colour fade. Cover up your hair if possible when you're in the sun, or have it tied back, and reduce the time spent using heated styling appliances like styling irons and hairdryers.
Book Your Hair Appointment at Esente Hair Salon in Wimbledon
Is your hair suddenly uncooperative? Can't get it to style at all? Make changes this summer with the experts at Esente Hair Salon in Wimbledon. Call us on 020 8946 4875 or our secure online booking link.